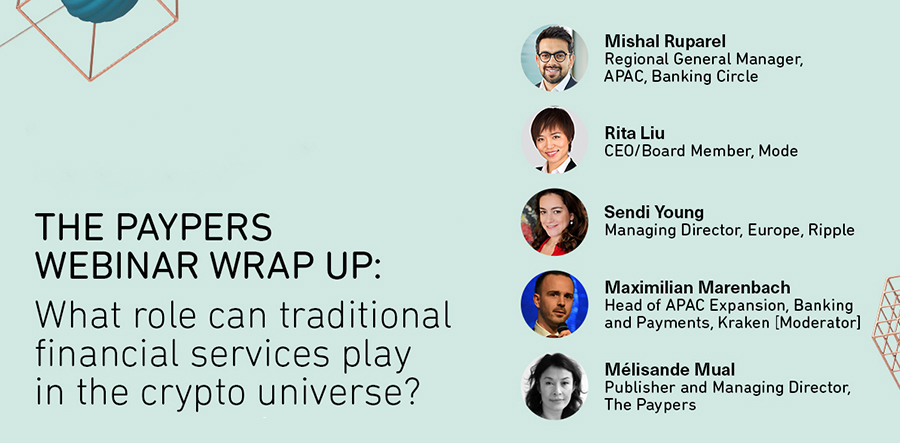 A recent webinar hosted by The Paypers brought together a panel of experts from Mode, Ripple, Banking Circle and Kraken to discuss where Banks are in the crypto adoption cycle and what's lies ahead on the crypto journey.
For the session, Mishal Ruparel, Regional General Manager for APAC at Banking Circle joined Rita Liu, CEO/Board Member at Mode and Sendi Young, Managing Director for Europe at Ripple. The discussion was moderated by Maximilian Marenbach, Head of APAC Expansion, Banking and Payments, for Kraken.
Looking at how the rise of cryptocurrency has already impacted banks, Mishal Ruparel confirmed that there will always be an element of friction for banks, as their legacy technology was simply not built for the high speed, high demand, 24/7 needs of the crypto world. This gap between what banks can deliver and what crypto needs provides what Mishal described as a "massive opportunity" to bring order and standardisation, and is a "fascinating space for an organisation like ours to be involved in." He added that using traditional cross-border payment methods he could send money to Australia but if he flew there he would arrive before the funds reached the beneficiary: "How do you bring financial services to marry up with the capabilities and reach of the internet? … this could change the way in which global payment evolves."
Sendi Young pointed out that "Four of five years ago it was unthinkable to have crypto in your payments, or to even have this conversation," but now Ripple is finding that companies and banks are coming to them for help working out their crypto strategy. While crypto is still not necessarily greeted with full open arms, Sendi said she is seeing crypto being institutionalised and deradicalised. More regulation is what she believes is needed before arms are opened wider to fully welcome in crypto.
Rita Liu added that she sees many similarities between the current rise of crypto as she saw with the rise of FinTech a decade or so ago.
When a new industry begins to be adopted it goes through cycles of high and low points, and each of these cycles drives education and understanding: "Think back ten years ago to when FinTech was taking off. There were lots of discussions in the industry: will FinTechs replace banks? Will customers all move to FinTech? … In the past few years, we've seen the same in crypto."
But every cycle brings improvements not just for banks but for the regulators, who are getting more serious about working with the industry to gain more understanding and more effective regulation.
The question of regulation
Highlighting that adoption of crypto is an "unstoppable trend", with more and more traditional financial services providers entering the space, and regulators spending more time in discussions around crypto, Rita praised the way in which the Financial Conduct Authority (FCA) in the UK recently brought crypto players together to discuss the best way to regulate the industry. She believes such thoughtful regulation is what is needed to protect customer assets and engender trust in the industry.
Mishal added that many regulators around the world are pushing ahead and releasing strong statements regarding future regulation of crypto. And while they are not necessarily working together they are certainly watching each other and the ways in which they operate are similar. However, he would still like to see a global standard introduced, one that everyone can adhere to and that would help increase trust in the industry and industry players: "You trust your bank… You do not want to put your money with a bank that will play with fire. Trust is critical. Regulation is critical. Regulation sets the framework and that encourages trust and that will lead to mass adoption."
Lessons of the past
Sendi believes there are three main lessons to be learnt from the past, to help manage the growth and future of crypto. Firstly, the importance of building for the long-term. Secondly, that regulation must be transparent but with the right safeguards in place. And finally that transparency is also required from all players. She confirmed that recent developments will not be the only 'crypto winter' or crypto turmoil seen, but each time the sector will come out stronger and the industry players who focus on the long-term rather than the short-term hype will thrive as a result. She added, "We have to remember we are still in the relatively early stages of the development of this technology. It is one of the fastest adoptions of technology we've seen in history ever, but it is still early days so the regulation and safeguarding is important."
Looking to the future
Future-scanning, Mishal believes blockchain will be key, especially in cross-border payments. He also expects and hopes to see more partnerships between banks and crypto businesses to deliver better on and off ramp solutions as well as to bring traditional bank security across to benefit the crypto market. He also sees blockchain as an opportunity to improve financial inclusion, both for businesses currently struggling to expand internationally as well as unbanked consumers.
Rita agreed with the desire for increasing partnerships between banks and crypto companies, hoping to see banks become more open to partnering – especially when some crypto providers are recognised by the regulator, as Mode is. She also feels work needs to take place to educate the industry, with crypto companies being clearer about what they are doing, in order to bring together the traditional and crypto worlds.
Concluding the webinar, Sendi confirmed her main concern is the need for clear regulation, implemented in an informed way and in partnership with the industry: "Regulation will impact how much and how quickly banks embrace the space."
With an audience poll confirming that almost 4 in 5 attendees believe banks can influence or improve confidence in digital assets, with clear strategies from banks capable of supporting further crypto adoption, regulation is clearly an important next step in the journey to widespread acceptance and adoption.
You can watch the full webinar on demand here.