With e-commerce booming, today's consumer expects a seamless shopping experience even across borders – and increasingly wants more choice when it comes to payment methods.
While card payments have traditionally dominated the space, Alternative Payment Methods (APMs) are gaining popularity as retail businesses and marketplaces look to continually improve conversion rates. But as APMs gain share, how will the wider payments and banking infrastructure respond, particularly as authentication and fraud prevention remain critical?
In the latest episode of our Knowledge Circle series, Michael Boel, Head of Local Clearing at Banking Circle, was joined by Andrew Gómez, Managing Consultant at Lipis Advisors, to discuss how the rise of e-commerce will influence the payment methods of the future.
The session was moderated by Esther Groen, an adviser to Holland FinTech and an Executive Board member of the European Women Payments Network. You can watch the full webinar on demand here, or read on for our summary of the key takeaways from the event.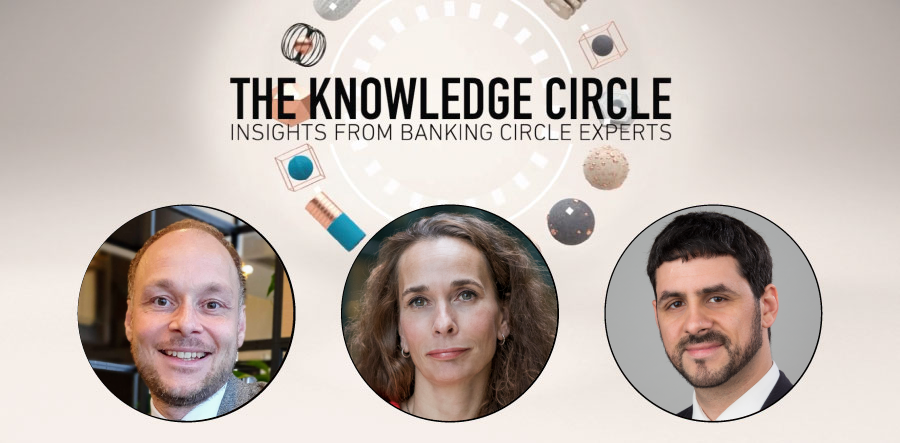 Merchants must offer payment choices
While just 20 years ago buying goods online was not commonplace for the average consumer, today e-commerce is thoroughly mainstream – and global. Accelerated further by the Covid-19 pandemic, consumers have taken to online purchasing thanks to convenience and pricing, explained Michael Boel, Head of Local Clearing at Banking Circle. As a result, we are seeing fundamental shifts in the way that retail businesses operate and how buyers and sellers want to transact.
"Everybody needs to be able to take their business online, and, therefore, they also need a transaction method that can actually support that," Michael said. "Today's consumer wants the best goods and the best prices regardless of location or borders."
Andrew Gómez, Managing Consultant at Lipis Advisors, highlighted the rise of Alternative Payment Methods (APMs), such as Account to Account options and Buy Now Pay Later, which are gaining popularity as retail businesses and marketplaces continually look to improve conversion rates.
"These different payments trends are changing the way consumers expect to make payments and, more importantly, for the merchants are changing the different types of payment methods that they now have to expect to offer," Andrew said.
However, while major global retailers and marketplaces are constantly improving their customer experience and making online shopping more and more convenient for the buyer, they are dependent on having the right payments infrastructure underneath to enable this, Michael pointed out.
Which payment methods will dominate the future?
During the webinar, attendees were asked to vote on which payment method they expect to see grow the fastest over the next three years: payment wallets came out on top (54%), followed by Request to Pay (34%), with debit and credit cards coming in at just 9% and 3% respectively.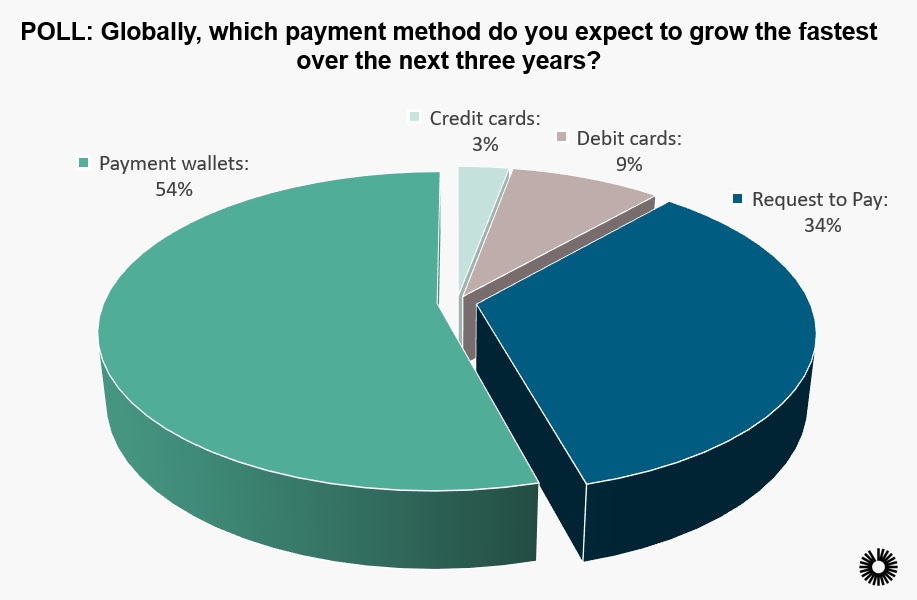 According to Andrew, while we are unlikely to see major growth in card usage – due in large part to the already very high penetration – cards as a payment method won't become irrelevant any time soon, as credit and debit card companies are working hard to support innovation. The success of new APMs in the future will largely be driven by consumers, he went on to say.
"There are several schemes – Request to Pay being one of them – that can really drive adoption. But, in terms of how successful these will be, I think we have to take a domestic look and we will see different take up in different markets… We also have to look at the services around any particular payment method being offered and how that enables usage."
According to Michael, underlying payments infrastructure and interoperability across markets will be a key driver in the adoption of new payment methods and will allow for greater innovation and accessibility in the market.
"The first steps that we're seeing the European Central Bank (ECB) and the European community taking – by building platforms or hubs that people can build their solutions around – will be the cornerstones of future e-commerce solutions," he said.