Our recent white paper 'Building a Circle of Trust' explored the challenges facing SMEs across Europe. Our research found that an ecosystem approach to SME financial services is what is required to properly address the pain points of this underserved sector.
But it's not an issue isolated to Europe. A McKinsey study has revealed that this is an issue affecting small businesses globally. The opportunity to deliver a financial ecosystem for SMEs is clearly there, but are banks able to provide what SMEs need while remaining profitable?
According to the study, FinTechs are gearing up to bridge the gap, with 30% focusing on the SME market. More tech-savvy SMEs are more likely to ditch traditional providers in favour of a non-bank provider if they can better meet their needs. In the UK, only 25% of small business owners feel supported by their bank. Additionally, SMEs cite a lack of access to lending options that offer fast and seamless application as a major concern. With all this in mind, banks need to start listening to small business owners if they want to keep their custom for much longer.
Pain points vary across the SME landscape, and evolve with the business as it enters different stages of growth.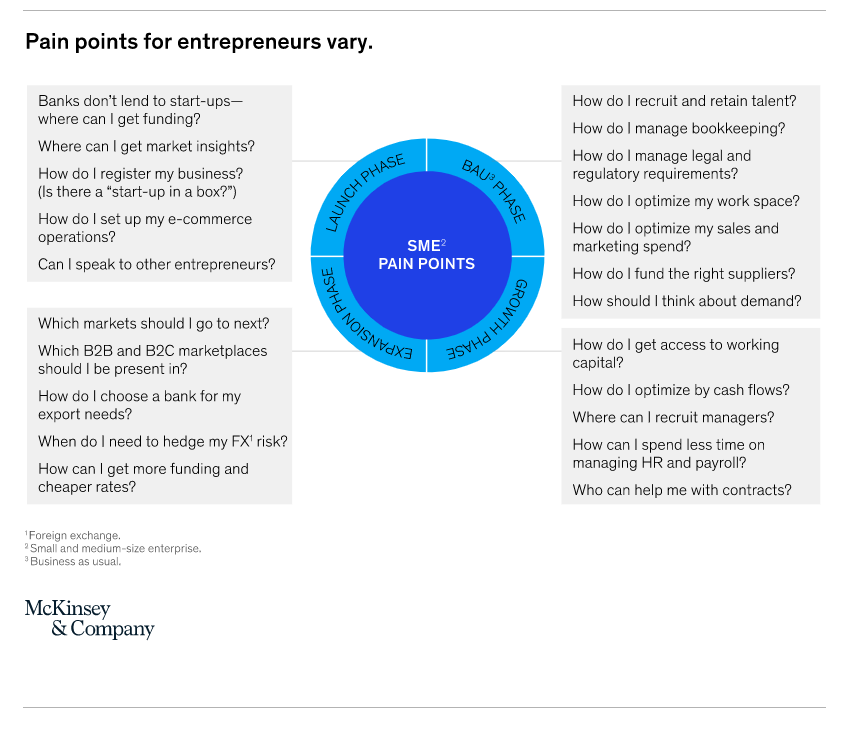 Banks have an advantage when it comes to access to SMEs' transactional data. From something as simple as a means to check income, to as complex as creating new customer profiles for tailored offers and marketing campaigns, banks have a huge advantage by owning account data.
However, as financial services open up thanks to initiatives such as PSD2 and Open Banking, a growing number of account aggregation services are now able to gain access to customer transaction histories, taking away this long-held monopoly. Other non-core, SME-focused services have become digitised, and SMEs expect banking to follow suit.
This is where the ecosystem approach comes into play.
Owning the entire customer relationship can be achieved by the joining together of:
Financial utilities that can facilitate lending, payments and accounts at lower cost
Accounting, payroll, tax software and budgeting tools to help manage cash flow
A marketplace of insurance providers offering policies tailored to small businesses, or niche industries
A platform that gives SMEs access to market trends and data
Networks that help find new business opportunities and staff
General support and advice from other entrepreneurs and industry experts
To achieve this, banks will need to work with partners to become 'more than a bank'.
Traditional models are too rigid. Digitisation and unbundling of services present new opportunities, but it does require shaking up the old way of doing things.
Different models can be adopted; modular, where SMEs pick and choose which products and services they want access to; subscription, a pre-packaged, tiered approach paid for on a monthly or annual basis; or pay-as-you-go, where the bare minimum is provided, but 'bolt-on' services can be paid for on a one-off or as needed basis.
By adopting this approach early on, banks can expand to seek out new partners that solve new SME pain points, eventually becoming a one-stop shop for small businesses across the globe.