SMEs are the backbone of the economy across all of Europe, making up 99% of all businesses, and generating 85% of new jobs across the region. Despite their huge contribution, when it comes to financial services, their corporate counterparts still have a distinct advantage.
From lending, to cross border payments and transactions, to bank accounts, SMEs have long been underserved. One of the main issues in providing financial services to this sector is how diverse it is. A one-size-fits-all approach does not work when there is so much variation in industry, location, and size to consider making it challenging to provide effective and viable solutions at scale. For this reason, many European banks are choosing not to develop tailor-made solutions for the SME market. However, with the help of technology, things are beginning to change.
Is what SMEs need what SMEs get?
Financial institutions and policy-makers have been aware of the challenges facing SMEs for decades. While numerous discussions about providing services and support to smaller businesses have been had, few traditional players have actually been willing to provide access to basic services; merchant accounts for sole traders; loans to help a micro business grow, and even basic business banking accounts are still difficult to come by.
For SMEs that do gain access to banking services, the solutions are often a modified version of what is offered to corporate clients – but with comparatively higher charges and fees. Because these solutions are not designed specifically for smaller businesses, they are not flexible enough to meet the needs of sectors that are more susceptible to the impact of external factors. Many SMEs are affected by peaks and troughs in cash flow caused by seasonality, political and economic influences, and late payments, hindering their plans for expansion. This, coupled with a lack of lending options, is resulting in missed opportunities for SMEs; in fact, almost 25% reported losing at least one opportunity in the past 12 months due to being unable to secure funding.
But it's not all bad news. A significant opportunity exists for challenger banks, FinTechs, and Payment Service Providers to enter the SME arena. New technologies are enabling disruptors that specialise in optimising niche areas of banking to provide the faster, cheaper, more flexible and more transparent solutions that small businesses are crying out for.
Creating bridges across the fragmented financial landscape
Technology alone is not going to solve the issues faced by SMEs. In some instances, digitisation is creating more complexity for SMEs; the increase in demand from customers wanting to pay via alternative methods such as mobile, for example. Not only is the ecosystem changing, the needs of SMEs are evolving, too.
As the financial landscape opens up, new partnerships are forged between established players and agile, tech-driven providers. As they work together, building collaborative models and solutions that can fit the diverse and disparate SME market, banking as we know it is 'unbundling'. By breaking down core functions into standalone products, financial institutions are able to better serve SME clients who need a more flexible and tailored approach to banking.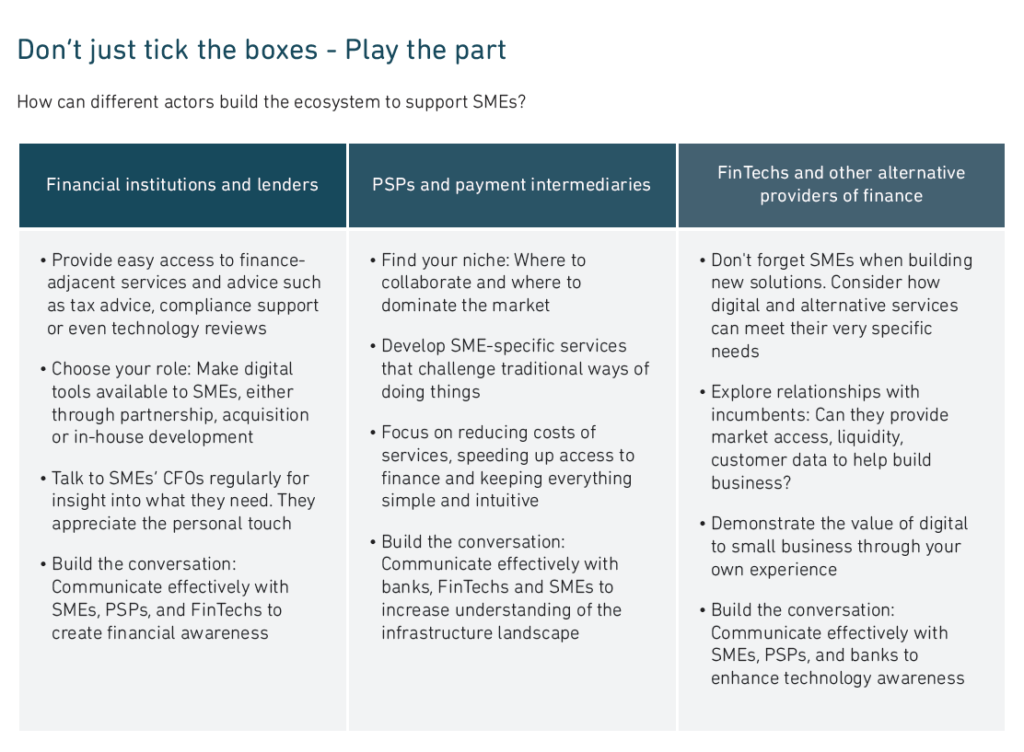 A collaborative approach that delivers financial products in a modular way, effectively letting an SME build its own tailor-made banking solution, could be the key to unlocking their full potential.
To find out more about the challenges facing European SMEs, download our white paper 'Building a Circle of Trust'.