The World Payments Report 2016 has this year provided new insight into the Key Regulatory and Industry Initiatives (KRIIs) that are set to shape the global financial landscape over the next few years.
As with last year's report, several new KRII's have been added, showing that the regulatory landscape is evolving at a rapid pace to keep up with the latest innovations in payments. While the 2015 report focused on developments in real-time payments, the 2016 edition explores the challenges and opportunities that exist in transactional banking, covering a broad spectrum of key regulatory issues that are set to shake up the entire industry.
The key findings of the report summarise the complexity of the evolving regulatory landscape and the challenges it presents, particularly for incumbents who may find established operating and business models being disrupted as new regulations need to be adhered to. Although some of these regulations are rule based, some are more open to interpretation, such as PSD2, and so financial institutions need to ensure that they adopt a holistic approach to adopting these changes while maintaining their existing compliance commitments.
The report also reveals that despite many banks understanding the importance of developing a vision of what compliance will look like in the near future, few have got past the initial planning stages and are far from being able to execute their plans, stating that "… most banks have established dedicated compliance programmes; however, in reality these initiatives remain tactical in nature while compliance efforts are still deadline-driven and regulation-specific".
In order to prevent being left behind, the report recommends that banks and other established payment service providers collaborate with FinTechs who specialise in regulation (known as RegTechs) to provide tools that enable compliance and efficiency.
A regulatory roadmap set to increase competition and innovation globally
The heat map of KRIIs demonstrates the impact that regulation is likely to have on banks, but FinTechs in niche markets, such as e-money and prepaid, will also need to ensure that they are able to meet a large proportion of the regulations set out. In fact, 'Regulatory Framework for FinTechs' is a global regulatory initiative that has been added to the 2016 KRIIs.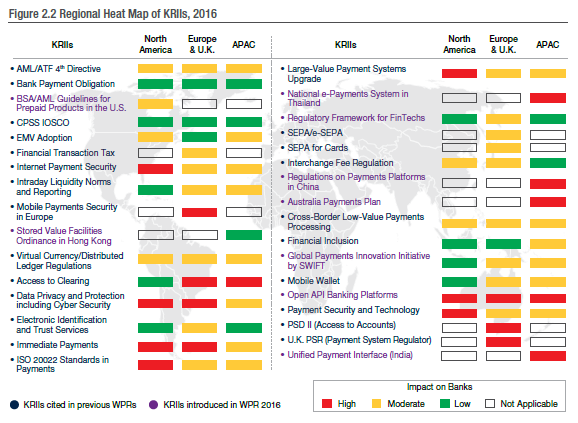 The European payment directive PSD2, and the UK's PSR, which both include legislation that will allow better access to banking infrastructure for non-banks, are expected to roll out within the next two to three years and are set to shake up the industry significantly. However, it is worth noting that both of these KRIIs are transformational and highly innovative – therefore by their very nature becoming more fluid than other regulations, which could result in deadlines being extended to enable financial institutions to achieve compliance.
Overall, while there are going to be some regulatory hurdles to overcome, and as the landscape continues to evolve, we are looking forward to seeing a more united global marketplace develop that focuses on innovation and collaboration for the benefit of everyone.