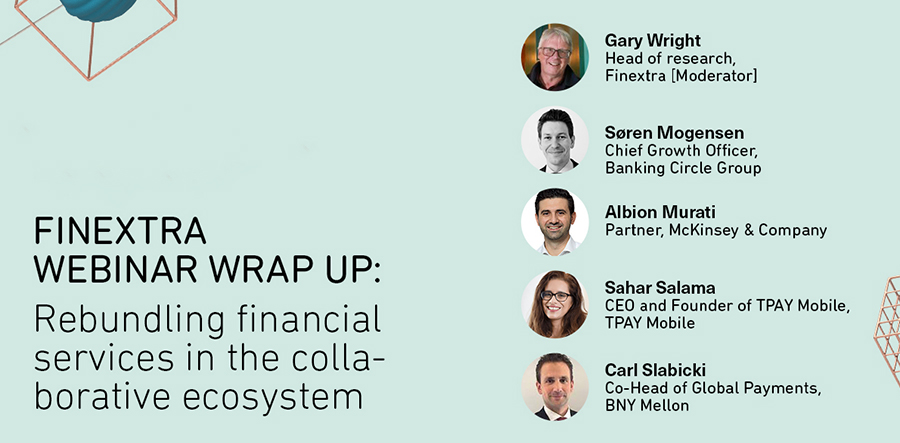 In a recent Finextra webinar, Banking Circle's Chief Growth Officer, Søren Mogensen, joined industry experts to discuss how the rebundling trend is evolving and what financial institutions can do to meet new customer expectations. Alongside Søren, the panel included Albion Murati, Partner at McKinsey & Company, Sahar Salama, CEO & Founder of TPAY MOBILE and Carl Slabicki, Co-Head of Global Payments at BNY Mellon. The session was hosted by Gary Wright, Head of Research for Finextra.
Sahar Salama pointed out that so far in 2022 we have seen a noticeable and encouraging increase in acceptance of what is required from everyone in the ecosystem. However, she believes the sector is still lacking the necessary pace to keep up with consumer demand, at least in part due to the fragmented nature of the industry.
An audience poll revealed that 66% of those attending the webinar have extended their customer proposition by adding non-core financial services, confirming Sahar's observation regarding increased acceptance of the collaborative ecosystem model. Albion Murati added that McKinsey estimates that 60billion Euros of services are provided through embedded finance today, with that figure likely to grow to ten times the size in the coming decade.
Broadening the offering
Søren highlighted examples, including Banking Circle Group, where financial institutions have added other companies in order to expand their own propositions. He likened the trend to how software developed some 20 years ago: a company builds a solution, the solution becomes so successful the company ends up creating a platform and then uses that platform to build an ecosystem around the original company to offer a wider range of solutions.
Albion agreed that this is certainly how the industry is embracing rebundling, describing three categories of players that are trying to come together to shape new propositions:
Providing the customers – usually big global brands, software companies
Providing the tech – FinTechs enable and embed new financial products
Providing the balance sheet – traditional banks, and some FinTechs and other players that are developing propositions to fit within the ecosystem
Carl Slabicki confirmed that BNY Mellon has seen a change in recent years. Where previously the bank provided back-office solutions for its clients, now it is able to get deeper into the business process of its clients, supporting them in identifying areas where their service can be improved, enhanced and streamlined. As such, the bank has become closer to the client experience, enabling it to deliver a wider range of solutions through a single portal.
Roadblocks
Looking at what is holding back the industry, Sahar pointed out that whilst the distance between global customers and suppliers is getting smaller, the physical distance remains a significant challenge. She explained that the further you are from the customer experience, the local regulation requirements and data restrictions, for example, the more difficult it is. Global innovation is fragmented, and standardised regulation would go a long way towards simplifying the process.
Albion added that although opportunities to use rebundled or embedded finance is rapidly expanding across a range of industries, bringing new use cases, much still needs to change. He highlighted three key changes that would get the necessary framework in place to enable further evolution:
Investment in tech, including building stronger risk and compliance frameworks
Rethinking the business model to ensure it is fair and works for everyone
Thinking about new distribution capabilities and optimising how you serve different types of customers
Søren agreed and added that the rebundling discussions taking place today are very different from those in the early days, some 18 months ago. Today we are seeing companies rebundle, while facing challenges with executing broader ecosystems. In his experience, Søren has seen the integration frameworks from other M&A contexts apply here too, especially the importance of integrating the new company with the existing, creating commercial synergies between the two, and harnessing the new company's innovative DNA and utilising the opportunity to deliver new solutions. As a case in point, Søren explained that Banking Circle Group has acquired a number of companies to provide lending, card issuing, BNPL, Account to Account payments around the core payments bank at the centre.
Sahar agreed, and pointed out that time is not on the sector's side. These stages take time, and more companies are needed to deliver on new technology that allows experimentation and innovation, because the current tech is old and hard to integrate. She even suggested that now may be the time for many to drop their legacy systems entirely, in favour of new technology stacks that allow real time innovation and change management.
The audience clearly agreed, with a second poll revealing that inflexibility of legacy infrastructure is the main barrier – at 40% – to an organisation extending the scope of its offering to improve customer value. Challenges with internal development expertise ranked second with 25% of votes. Lack of available investment for in-house development came in next with 20%, followed by regulatory risk for 10% and financial risk for 5% of respondents.
Opportunities
Concluding the discussion, Søren cited lack of internal development expertise as another significant hurdle. He highlighted that there is only so much that can be pushed through development at one time, and this is one reason Banking Circle Group chose to augment its platform via acquisition to build an ecosystem surrounding the bank. Each company the Group acquires has separate funding, resources and priorities, meaning they can develop multiple solutions simultaneously rather than in turn as it would be if development took place through one company. Søren said Banking Circle focuses its development efforts on becoming a world leading payments bank, then uses other sister organisations to deliver additional solutions.
He added that now is an exciting time in the rebundling journey. The industry can learn from what has already taken place in order to shape the future evolution: which of these rebundlings are working, where can we see synergetic value, where do we see the happier clients, where are needs being fulfilled?
Click here to watch the full webinar on demand.