Driven by the COVID-19 pandemic, the battle for talent is increasing for companies and organisations – forcing them to rethink their recruitment and retention strategies.
In the latest episode of our Knowledge Circle series – the first of two sessions focused on 'The Great Resignation' – a panel of industry leaders discuss how recruitment is changing within the current landscape, whether the power really is shifting from employer to employee, and what financial services businesses should be doing to ensure that they attract the best talent.
You can watch the full webinar on-demand here, or read on for our summary of the key takeaways from the event.
Panel:
Jonas Fabricius-Bekker, Head of People, Banking Circle
Caroline Lo, Partner, True Search
Thibault de Barsy, Vice-Chairman and General Manager, The Payments Association EU
Moderator: Esther Groen, Adviser to Holland FinTech and Executive Board member at the European Women in Payments Network
'Perfect storm' in the labour market
Caroline Lo, Partner at global recruitment firm True Search, explained that the COVID-19 pandemic has had a significant impact on both employers and employees alike, while investment in talent has been on the increase – creating a 'perfect storm' that has given rise to the term 'The Great Resignation'.
"[Employers and employees] are actively questioning how, where and why we work," Caroline said. "Simultaneously, what we have also seen – which to a degree has been spurred on by the pandemic…is ever-larger funding rounds, more and more investments being made, and businesses only accelerating their growth plans. Inevitably, quite often a large part of that investment goes into talent, and so hiring has absolutely soared."
These conditions, combined with the trend for resignations and career changes among workers since the pandemic, has created "a real crunch in the talent market," Caroline went on to say.
In the current environment, many companies are seeking new hires throughout all levels of seniority, resulting in many candidates receiving lots of enquiries and opportunities from recruiters and headhunters – but the key drivers for choosing a role have changed too.
"Whilst compensation has always been really important to people, clearly flexible working and remote working is now requested, and in some cases it's absolutely demanded," Caroline continued. "What we're seeing is that in all segments of the market, hiring is really challenging. You could go as far as saying this is very much a candidate's market right now, given the swathe of opportunities that have hit the market."
Challenges for financial services firms
According to Thibault de Barsy, Vice-Chairman and General Manager at The Payments Association EU, companies in the finance sector may face an even greater challenge in the search for talent than other types of businesses.
"The appetite for finance is not very high among young graduates – even the ones from business schools, which used to be the main source of new hires for banks and financial institutions," Thibault said. He pointed to the 2008 financial crisis, as well as the potential for a poor perception of traditional banks due to candidates' own experiences as consumers.
Even then, employers have a balancing act on their hands as some candidates seek fully-remote roles while others still want face-to-face interaction.
"Then, of course, what has changed a lot with the pandemic is the whole perception of remote working," Thibault went on to say. "I can see that for some young professionals, they really love staying at home and working in the comfort of their home, and for others they will specifically ask me to be absolutely sure that they are integrated into a team with people they can talk to and work with every day."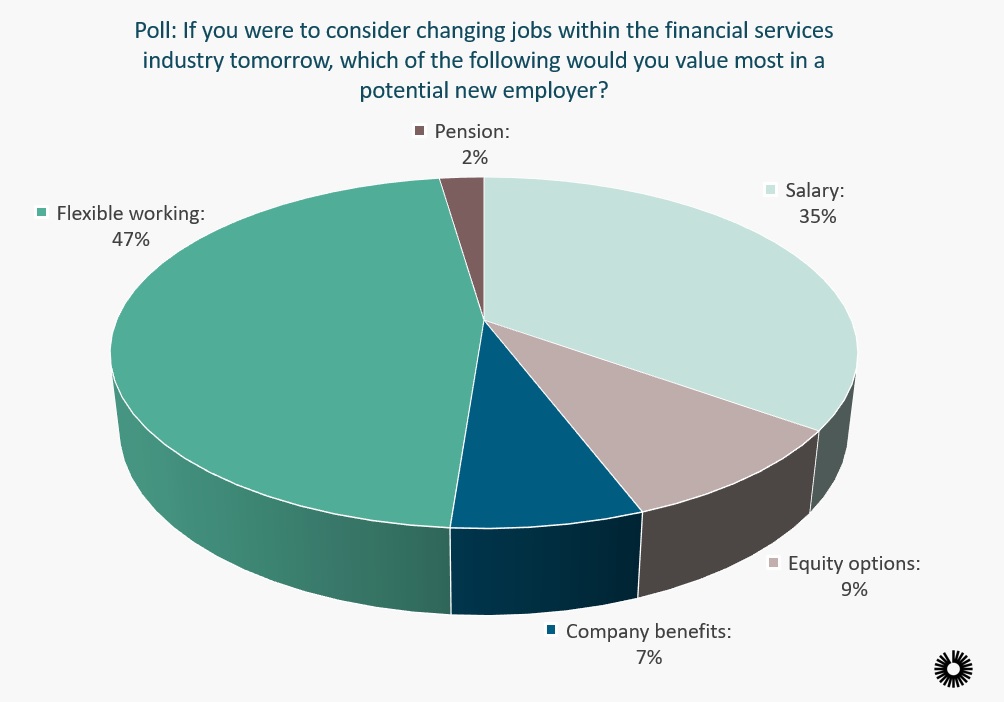 A shift in mindset
Jonas Fabricius-Bekker, Head of People at Banking Circle, explained that amid the multitude of changes caused by the pandemic, there has been a definite shift in the mindset of employees. Today's candidates are increasingly looking for opportunities that allow them to leave their mark on a business and to create impact, he said.
"It's not necessarily about remuneration. There has to be something else on the shelf to be offered… that's what for us, we have seen as the biggest shift in mindset," Jonas explained. "I think what we need to make sure that we get across is that being a small organisation enables us to move fast, to be less corporate in the way we operate, and to be able to offer different opportunities and be agile in the way we adapt."
For employers within financial services who operate within a regulated environment, Jonas highlighted the importance of having a business model that can respond and adapt to the changing needs of the talent pool.
"As a licensed institution, we have certain boundaries that we need to stick to, but we also within those boundaries can be really fast naturally. We can apply a new set of ideas that we can actually reward our people with – like for instance, more flexible work schedules, and accommodating the wishes of people to be able to work from home – and it's about making sure that we embed that in our proposition and in our culture."