Digitalisation dramatically accelerated to meet the challenges of 2020. Having had to innovate – and fast – in the face of COVID-19, banks are now more open than ever to joining forces with external providers to deliver better solutions more quickly.
New Banking Circle research investigates the challenges faced by banks as they work to future-proof their organisations and enhance the service they provide to their customers.
Constrained by outdated legacy systems and the time and investment needed to update them, banks are struggling to keep up with newer market entrants offering faster, cheaper cross border payments As a result, banks are increasingly looking to external partnerships and collaboration to maintain and grow their customer base and offer competitive solutions to the market.
In partnership with UK Finance, Banking Circle hosted a webinar where a panel of industry experts discussed how partnerships are helping banks in meeting the innovation challenges they face, and how the landscape will change in 2021 and beyond.
You can sign up here to watch the webinar on-demand, or read on for our summary of the key takeaways.
The panel:
David Birch, Author, Advisor & Commentator on Digital Financial Services, 15Mb Ltd and Consult Hyperion
Becky Clements, Director, Payments, UK Finance
Jon Levine, Co-Head of Institutional Banking, Banking Circle
Mark Mcnulty, Head of Payments and Receivables EMEA, Managing Director, Citi
Juan Jiménez Zaballos, Head of Financial Industry Transformation, Santander Group
Banking's response to COVID-19
By now, it's well established that while banks were already a way down the road when it comes to the process of digitalisation, the COVID-19 pandemic caused them, in many cases, to accelerate that pace of change.
But alongside the need for accelerated digitalisation, banks also faced some big decisions early on in the crisis that required quick thinking and often, collaboration.
"There was an acute liquidity squeeze in March [2020], and then there was the rollout of numerous crisis response schemes," Jon Levine, Co-Head of Institutional Banking at Banking Circle, explained.
"For a lot of these things, banks had to decide what they were going to do – and do it very quickly. Some banks did that in-house, and some did that externally and through various partnerships."
The payments industry reacted with some specific innovations designed to meet the requirements of the 'new normal', such as raising the contactless transaction limit in the UK from £30 to £45. Much of the innovation in the sector was able to happen as the foundations had already been laid through existing partnerships strategies, Jon went on to say.
"Interestingly, the tone is shifting as we enter 2021 – a lot of banks have gotten back to the track that they were on, in regard to focusing on what their customers want and what products they want to roll out. That acceleration is coming back as we come out of the COVID-19 period."
2021: What does the future look like?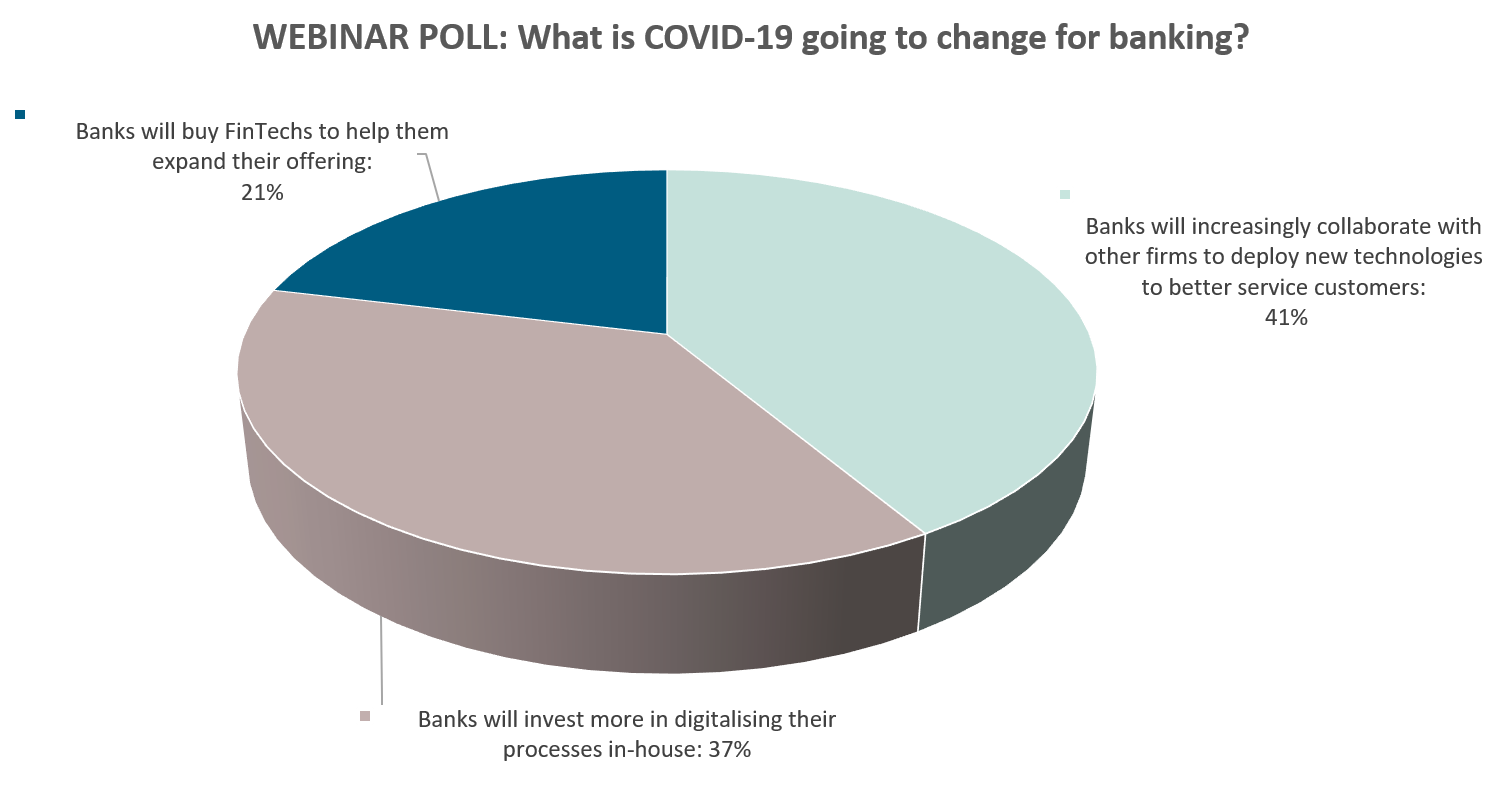 Asked about the changes that they expect to see in the banking sector, webinar participants from the industry demonstrated a clear appetite for collaboration and an interest in FinTechs.
According to Mark Mcnulty, Head of Payments and Receivables EMEA at Citi, banks should be utilising all options in order to future-proof their businesses.
"It's not an 'either-or'," Mark said. "Banks need to do all of these things. They need to invest in their own digitalisation, they need to partner, they need to think about the deployment of FinTechs in terms of the value-added services they can provide."
In fact, without this work already having been in motion, the industry would have been in a far worse position post-COVID, he went on to say.
"The critical point in why, from a client-to-bank interaction point, banks stood up [during the pandemic] is because for many years, and perhaps in an accelerated way over the past few years, banks have been digitalising their processes."
Where are the opportunities now?
Banking Circle's latest research, which surveyed decision-makers in banks, found that more than 80% are already partnering with an external provider for services including payments, FX and trade finance, or plan to do so in the next year.
According to Juan Jiménez Zaballos, Head of Financial Industry Transformation at Santander Group, while payments has in the past been considered a commoditised business, that notion has since become outdated – and there is ample opportunity in the space.
Mark Mcnulty echoed that sentiment, explaining that payments services offer an opportunity for banks to differentiate themselves from their competitors, particularly if they can leverage partnerships effectively.
"I think what we see a shift in, is that banks don't need to be present themselves in 40 countries to offer payments services in 40 currencies to their clients," Mark said. "They can clearly partner with others to leverage other networks and capabilities."
Banking Circle's offering of an infrastructure that can be plugged into seamlessly, allows banks to do just that, Jon Levine explained.
"Payments is a complicated field, it's expensive, and we offer centralisation of service that can enable banks to serve their customers both faster and cheaper," he said.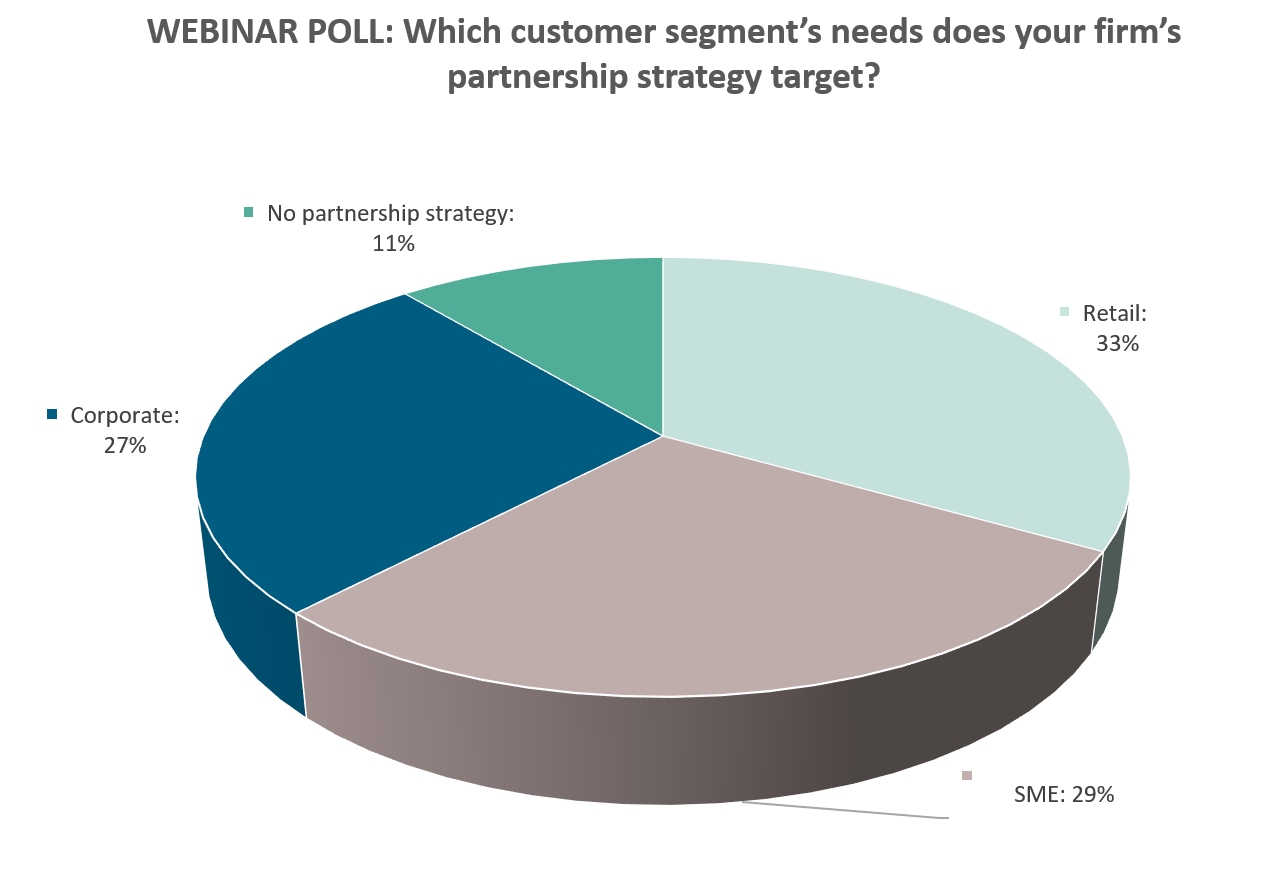 Results from an in-webinar poll found that SMEs are being targeted by firms' partnerships strategies, with a slightly higher share than corporates. Juan also highlighted the SME customer segment as an area with great potential.
"Here at Santander, we have a strong focus on SMEs," he said, pointing to the high percentage of GDP that SMEs represent across Santander's key markets, as well as their status as top employment creators across these markets. However, they are often underserved and there is an opportunity for greater innovation of products and services in this space overall: "They do not get totally digital products and services from banks," Juan added.
Read the latest research on how banks are future-proofing their businesses and utilising partnerships for innovation in 2021 – download Banking Circle's latest whitepaper here.