The Bank of England released its report on the Future of Finance which explores the impact of an evolving financial system on its agenda, toolkit, and capabilities in the next 10 years.
Banking Circle identified this shift in the ecosystem early on and has built its offerings to address many of the pain points highlighted in the BoE review.
1. The continuing shift to digital
It probably comes as no surprise that technology has been a driving force in changing the expectations of end users across a wide number of industries, and finance is no different.
Technology has enabled improved communication, allowing more and more people to connect with others all over the world at the touch of a button. Yet when it comes to moving money around, the incumbents in the financial industry have been somewhat slow to react.
A number of FinTechs have helped to bridge the gap, and the BoE highlights several examples of where new entrants have introduced innovative solutions that sit outside of the banking system, such as Ant Financial's mobile payment service, AliPay. In fact, according to the Financial Stability Board, 50% of financial intermediation globally is now happening outside the banking system.
To address this, the BoE aims to develop payment options that are:
Efficient
Fast
Secure
Low-cost
Cross border
As the number of cash transactions continues to fall, the focus will be on shaping the payments system of the future, which will better support alternative payment methods while ensuring that those reliant on cash are not left behind.
2. The emergence of platform-based ecosystems
Hundreds of bank branches all over the UK have shut down, resulting in more SMEs shifting toward mobile banking, with 83% now opting to access banking services via an app. High street banks have invested heavily in improving the digital user experience for customers, making a visit to a branch more and more unnecessary.
Although many banks can now provide a wide range of products that can be accessed online, customers now have more choice with services being offered by niche providers, making it more difficult for one financial institution to own the entire relationship. Financial marketplaces can provide the one-stop-shop that consumers and businesses want and need in this digital age – and the race is on to deliver it.
But it's not just banks offering instant access to financial products. Big tech companies are increasingly gaining market share, particularly when it comes to payment solutions. After being successful in this area, they are now expanding to offer services such as short-term lending and insurance via their platforms. With huge customer bases and established trust in their brand, coupled with better access to financial products by means of collaboration with other entities, they are able to offer a modular, platform-based ecosystem tailored to the end-user.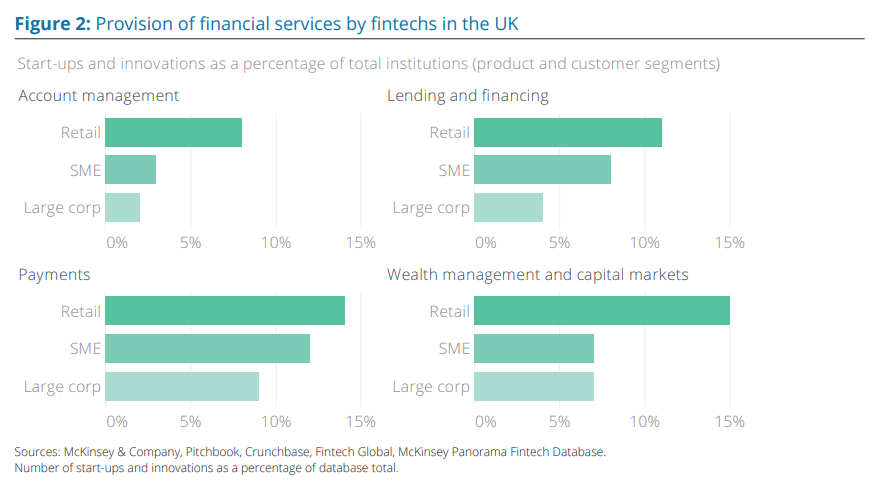 It is not yet clear how successful big tech will be in changing the way people access and use financial services. Facebook recently threw its hat in the ring, announcing the launch of its own digital currency, and has gained the backing of many reputable companies and organisations. However, regulation, particularly those around AML/KYC, is likely to hamper its growth beyond use within the platform itself.
3. Further unbundling of business models
The entire third section of the BoE review is dedicated to addressing the challenge that comes with unbundling financial services.
FinTechs are focusing on delivering niche services and consumers and businesses are slowly migrating away from their main banking provider to take advantage of better rates, lower fees, and an all-round better experience.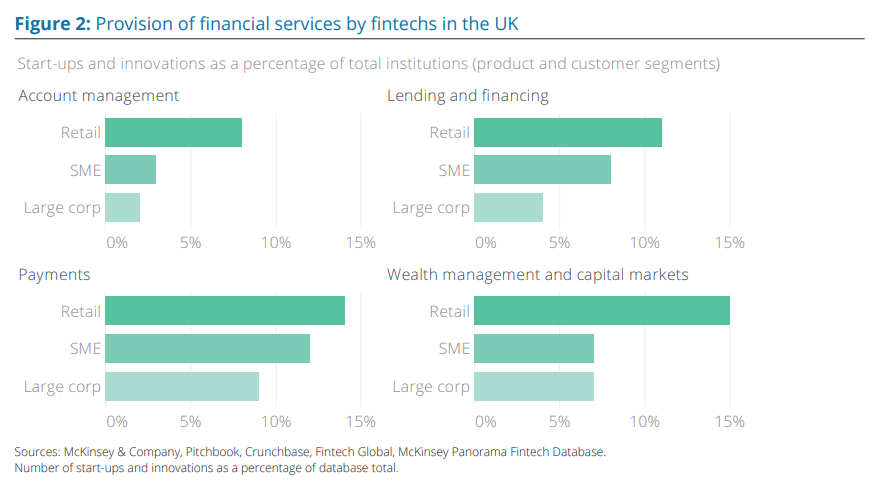 Ensuring the financial system remains robust and secure is just one of many concerns highlighted, with the BoE stating: 'Technology is enabling unbundling of activities which historically were done under one roof. While a more distributed model has many advantages, it is a far more complex system to oversee. For instance, many players which have historically not been regulated or held to the same standards are becoming active in core financial services processes. The Bank, and others, will wish to ward against this to realise the benefits.'
Although unbundling presents clear challenges relating to traditional models of regulation, modelling the economy, and how central banks operate, there are also opportunities, as incumbents can innovate or partner with new providers to deliver a better service for customers.
4. Managing the impact of new laws and regulations
Next-generation payments regulation was identified as one of the main priorities in the report to further open up the banking system and level the playing field for new entrants. These new payments regulations need to strike a balance between empowering firms to increase competition while ensuring the safety and soundness of the banking system. One such suggestion to achieve this is a tiered approach for non-banks to access financial infrastructure.
More broadly, the Bank aims to become a world leader in digital regulation. Through the use of machine learning and analysis of big data, there are opportunities to streamline and automate many manual processes, spot risks and irregularities to act on them sooner, and speed up the processing of checks such as KYC and loan applications.
RegTech companies have already been cutting the cost of collating and submitting regulatory data by streamlining and automating some of the manual processes at financial services firms.
5. Technology improving efficiency across all of financial services
Technology has been the main driver for expediting the digitisation of regulatory processes.
But technology has highlighted major inefficiencies in the financial system. Something as simple as opening a bank account has long been an ordeal for consumers and businesses alike. Technology is slowly changing this, opening doors to those who were previously excluded from, or had limited access to financial services.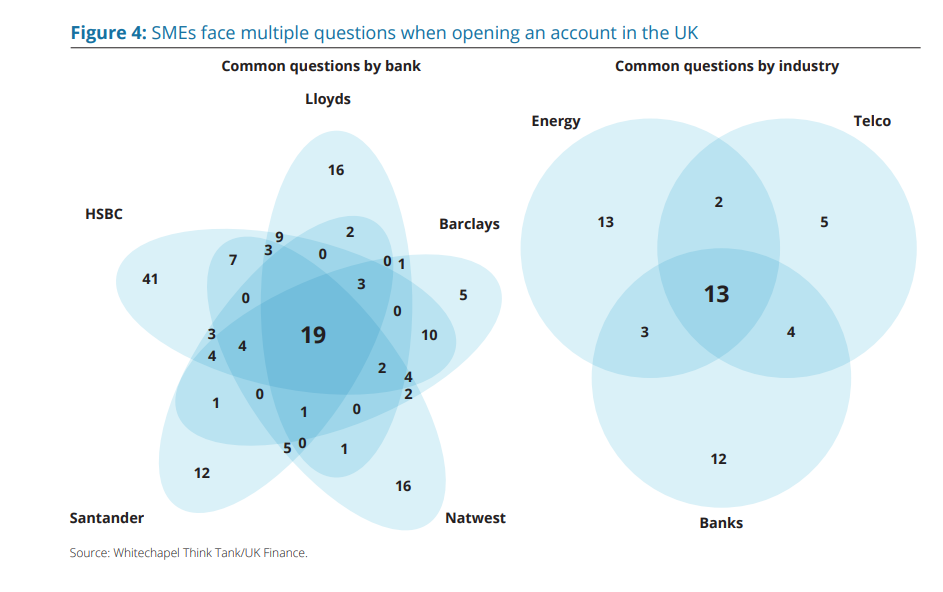 A lack of personalisation in financial services may also be addressed. Thanks to initiatives like Open Banking and the greater use of APIs to share data across the financial system, there is a wealth of opportunities. The ecosystem approach can only be achieved through developing the right platforms, protocols and standards, but would allow for innovations such as SMEs being able to compile data from different vendors to find the most suitable products to support the growth of their business.
The Bank of England is also exploring the possibility of replacing legacy infrastructure to future proof the banking system, developing modular improvements that build incrementally towards a new technology stack.
Overall, there are no major surprises in the report as to what needs to be done to move forward, but how the BoE will fully embrace the challenges that come with the future of finance are yet to be fully mapped out.