A new report published by Capgemini and Efma, 'World FinTech Report 2021' highlights how FinTechs demonstrated resilience during COVID-19. With some verticals recording double-digit growth, and FinTechs beginning to mature, there is more pressure on incumbent banks to embrace digitalisation than ever before.
FinTechs are turning up the heat on incumbent banks
The pandemic accelerated the global adoption of digital models across numerous sectors, but this was seen particularly in financial services. With recommendations on not paying with cash wherever possible, and bank branches being closed, consumers and businesses alike turned to FinTechs for solutions.
What can banks do to combat this?
During this period, FinTechs proved themselves to be not only competent competitors, but also partners. Banks have the edge over FinTechs when it comes to reach and trust, however, to remain relevant they must overcome their weaknesses: in particular, addressing issues with legacy IT, and delivering a better customer experience.
One of the ways banks can leverage their global reach and trust while remaining relevant is by creating digital-only subsidiaries. In fact, while 25% of consumers said they would try banking products from FinTechs, a whopping 68% said they would try a digital-only offering from their primary bank.
Banks understand the importance of embracing digital-led strategies. Of the 122 banking executives surveyed, 63% said a digital-only subsidiary enables ubiquitous banking, 52% said it makes collaboration with the ecosystem easier thanks to plug-and-play functionality, while 50% said it drives new products to market faster. Not only that, 57% of those surveyed said that they were already in the process of building a digital-only subsidiary, with 27% in the planning state, and 30% starting the process.
The recommendations laid out in the World FinTech Report 2021 focus on the appetite for a digital-only strategy, and centre around three key approaches – greenfield, bluefield, and brownfield.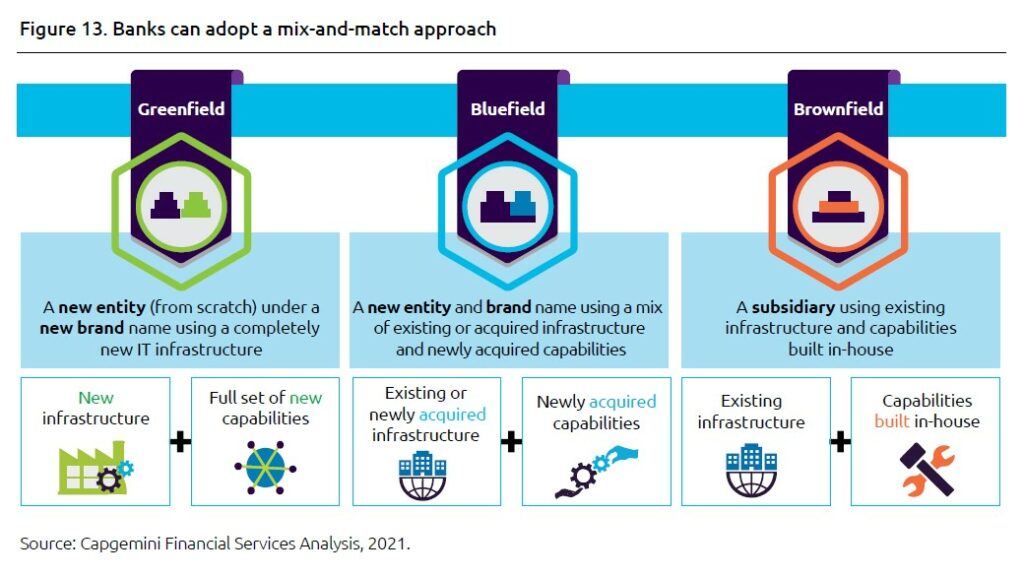 According to the report:
The greenfield approach is best for less digitally mature banks who are just starting their journey in digital transformation. A new, independent entity is created from scratch and is established quickly, with completely new infrastructure and capabilities.
The bluefield approach is favoured by banks that have an established digital presence, but unproven digital innovation skills when it comes to product. Falling between creating a new digital entity and having an iterative transformation program, the parent bank can leverage its modern core banking platform, or seek out one with new capabilities that allow it to improve products and UX quickly through acquisition, allowing the bank to keep its digital offering independent from legacy infrastructure.
The brownfield approach is perhaps the best known digital transformation approach, and has been a path followed by many digitally mature incumbents. These banks have the ability to incubate a digital bank internally, launching it as a separate entity in the market using existing infrastructure and an in-house team to develop new capabilities.
These different approaches to digital transformation can be mixed and matched as appropriate – especially for banks that target a diverse customer base. While some banks, particularly those mature enough to take the brownfield route, will not require support from third-parties, many will. This is where FinTechs become trusted and valued partners, rather than competitors.
More than 40% of bank executives displayed an interest in collaborating with third-party vendors to enhance their digital-only subsidiary.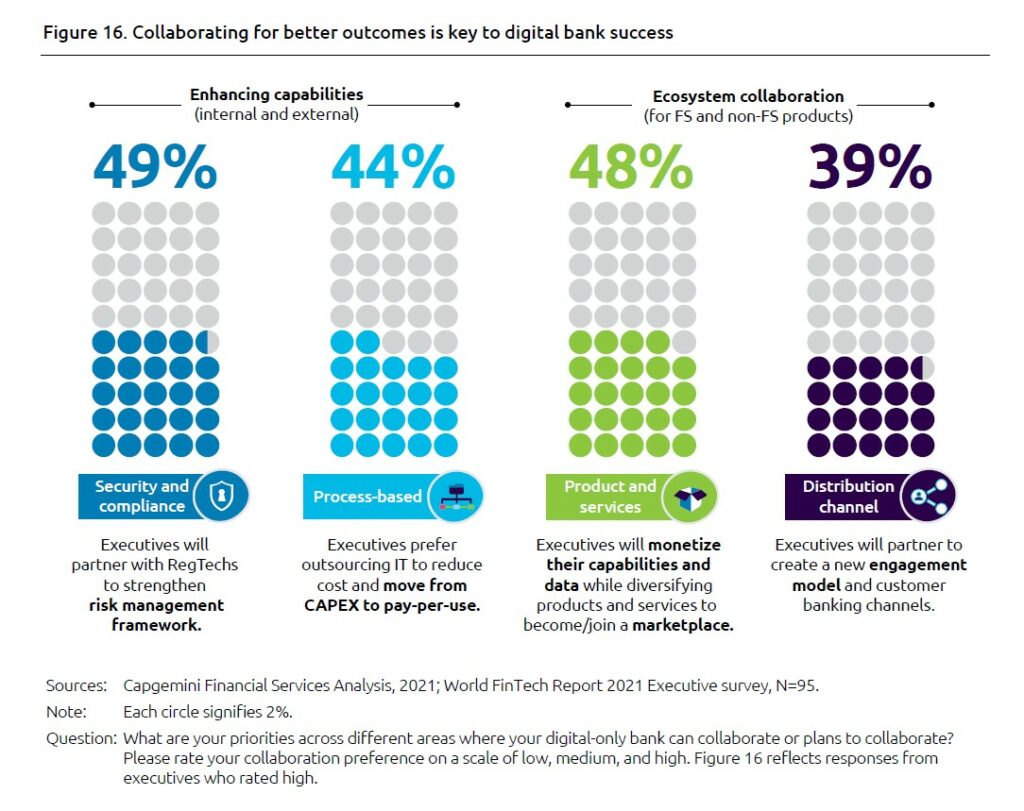 From security and compliance, to new products and services, the benefits of partnering with FinTechs who specialise in these niche areas are clear – lower costs, faster product development, and improved customer experience – without having to employ an in-house team to start from scratch.
This trend was highlighted in Banking Circle research conducted earlier this year, 'Better business banking: Collaborating for success' which explored the opportunities and challenges faced by banks, and the benefits of collaboration. Banks in Europe have found that working with third-party service providers is an important part of business planning to enhance customer propositions and future-proof their organisations, with half saying they already have partners, and another third planning to do so in the next year.
The changes brought on by the global pandemic have demonstrated that some banks are lagging behind, and if they haven't acted already, now is the time to do so, before it's too late. How banks approach the challenge of creating digital entities and products their customers will embrace against the backdrop of mature FinTechs, is yet to be seen.
Download your free copy of the World FinTech Report 2021 here.