In early June 2016, sterling volatility hit a seven-year high ahead of the uncertainty around the Brexit referendum. It was reported that while traders attempted to protect themselves, the cost of insuring against sterling volatility hit its highest level since the days after the collapse of Lehman Brothers in 2008.
Following the result of the referendum, Sterling plummeted; hitting a new 31-year low against the Dollar on July 6, marking the worst ever single-day drop for the currency. The pound is also weak against most major currencies, and although it has shown some signs of recovering, a period of financial uncertainty looms over the markets.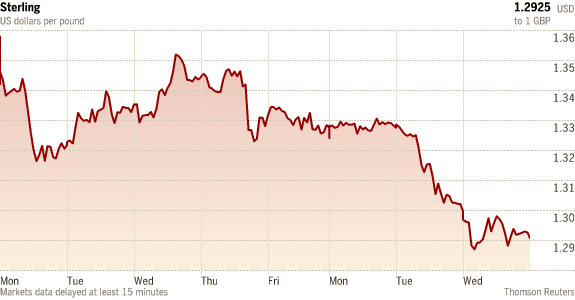 Source: Thomson Reuters via FT.com
2016 has already been a turbulent year In terms of currency and exchange rates, particularly Sterling against the US Dollar, which has also had knock-on effects elsewhere, and it is this sort of unpredictability that makes businesses nervous if they trade internationally. To prevent impact on their business, organisations of all sizes should be looking to secure the best exchange rates available, at all times, no matter what the market is doing.
Companies are leaving themselves wide open
Businesses of all sizes leave themselves exposed to negative currency movements. A lack of reliable forecasts and currency market volatility makes it difficult to predict how cash flow may be impacted day-to-day.
With such huge fluctuations reported in recent times, businesses need to be assured that they are getting a good deal in terms of the cost to transfer money abroad to minimise risk. It is also important that the transactions occur as quickly as possible to keep up with market conditions, and avoid any severe changes in exchange rates which would impact the value of the transfer.
Our own research discovered that just 38% of issuers, acquirers, payment service providers (PSPs) and merchants feel they get a competitive foreign exchange rate for cross-border transfers, with only slightly more than half (51.9%) being satisfied with the rates they pay to their bank or payment provider for these transactions.
Hard times for FX payments businesses
Difficulties caused by volatility are multiplied when it comes to businesses trading in currency rather than goods or services. FX payments businesses may struggle to ensure that they are buying at the best rate and keeping their costs down. Despite the challenges that come with providing FX payment services, many of these companies still put up with high fees, poor FX rates, and slow transfer times. This may be seen as the norm, but it doesn't have to be.
By using a real-time FX trading platform the currency purchase and cross-border payments process can be streamlined, which is hugely beneficial to FX payments businesses as it cuts out unnecessary delays between payments being sent and received, and gives back control to the business itself rather than handing it over to a bank or other payment provider. Most importantly of all, it removes the middleman, and their fees, in the process.
By utilising sophisticated risk management tools contained within a real-time forex trading platform, FX businesses can capitalise on trading potential by analysing margin utilisation, profits/losses and more – all as-it-happens, ensuring the best possible control of costs for a business.
In uncertain times, businesses need to utilise tools that will allow them to mitigate risk and remain competitive in a volatile foreign exchange marketplace, or risk being left behind.