According to a survey conducted by EY, consumers are warming to financial services provided by non-banks, with 15.5% using at least two FinTech services in the past six months. The survey of more than 10,000 digitally active people in Australia, Canada, Hong Kong, Singapore, the United Kingdom and the United States provides insight on the overall rate of FinTech adoption, the products and services that users are taking up, and the outlook for future usage.
While the research focuses on consumer uptake of FinTech, the survey also highlights wealthy urban millennials as those most likely to explore these services. Banks may underestimate the impact that this has on business banking services too, as they risk missing out on an entirely new generation of small business owners who have different expectations from their financial services providers, which could prove to be incredibly costly in the next few years.
FinTech adoption is growing globally
As FinTechs provide solutions that traditional financial institutions cannot, banks, insurers and wealth and asset management companies are beginning to find that the risk of disruption is real.
The survey shows that 15.5% of digitally active consumers have used at least two FinTech products within the last six months – and EY have predicted that adoption rates could double within the year.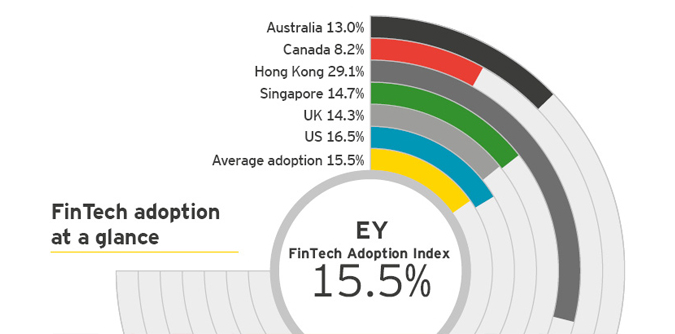 Many FinTech solutions are more accessible than traditional financial products and services, and this is a crucial factor for their customers. By harnessing technology to deliver value and convenience to their customers, banks will need to act fast to identify those customers most at risk from the new competition and invest in developing new products and services to retain them.  As early FinTech adopters tend to be younger, higher-income customers, with adoption concentrated in high-development urban areas, banks need to be aware that they risk losing some of their most valuable customers if they cannot keep up with the pace of innovation.
The payments sector is already evolving quickly
Innovation in the payments sector has revolutionised how consumers and businesses pay for goods and services, transfer money between accounts and transfer money internationally. FinTechs who offer payment solutions, including the use of non-bank providers to make online payments, online FX, and cross border payments have the highest adoption rate in the markets surveyed, with 17.6% of those polled confirming that they have already tried non-bank alternatives.
Why are consumers turning to FinTech?
There are a number of reasons that consumers are adopting FinTech, including ease of account set up, better rates, access to different products and services and a better online experience. This demonstrates that well designed tech and understanding the customer proposition are two key factors driving them away from using incumbents.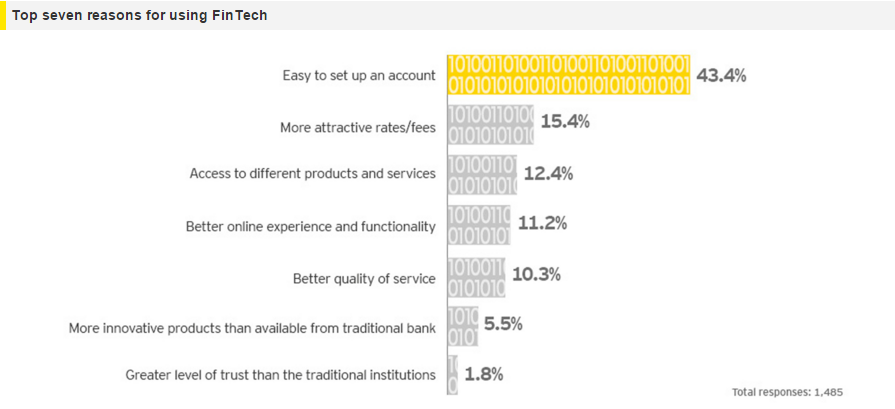 Although FinTech is growing, lack of awareness is the main barrier to adoption. 53.2% of respondents stated that they were unaware that alternatives exist with non-banks, and so stepping up how they market themselves to a wider audience should be a key consideration for FinTechs.
Imran Gulamhuseinwala, EY global FinTech leader, says: "The adoption of FinTech products is relatively high for such a new sector, so the risk of disruption is real. As FinTech continues to catch on among consumers, traditional financial services companies will have to reassess their view of which customers are most at risk from the new competition and step up their efforts to serve them effectively."
Incumbents may not need to worry about losing revenue from their core services just yet, but as FinTechs innovate in more and more niches in the financial sector, they should certainly be watching their backs.