In the last 12 months, financial institutions have been familiarising themselves with a number of new regulations which are set to roll out in the next few years. Innovation has moved at a rapid pace, driven by demand from consumers, advances in technology, and the FinTech boom. This has resulted in new challenges developing for global regulators.
Many of the regulatory initiatives which have been recently introduced are in emerging markets. These regions typically have the highest scope for growth and so it is crucial that businesses looking to expand into new territories are fully aware of current and future regulations, which have the potential to disrupt even established operations and business models. In addition, many of the key regulatory and industry initiatives (KRIIs) focused on emerging markets overlap with other jurisdictions, presenting further issues for compliance teams.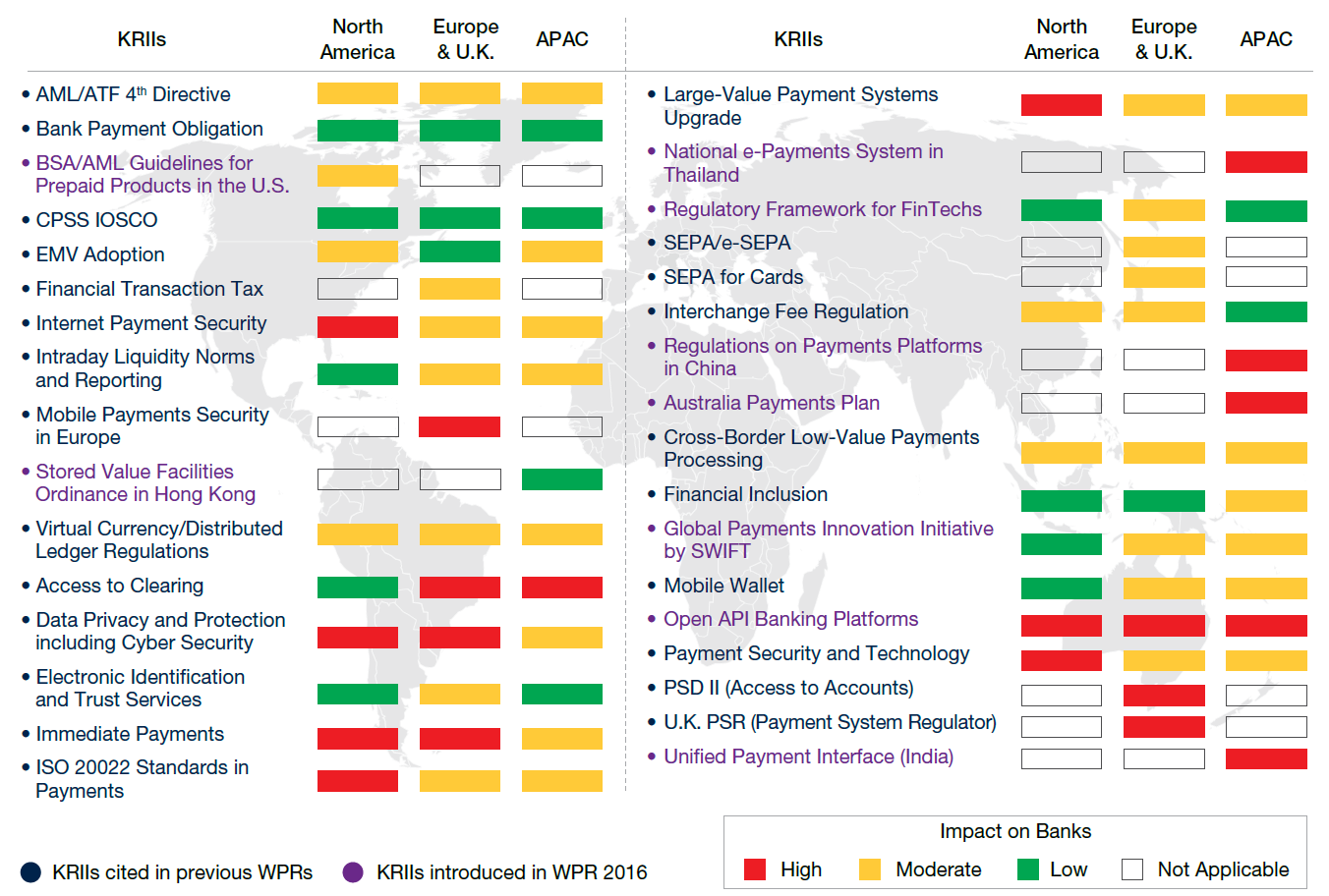 KRIIs – World Payments Report 2016
All across the financial landscape there are regulatory changes underway – many of which are open to interpretation, increasing the complexity of compliance and demonstrating the need for a flexible and collaborative approach to regulation.
The rise of the RegTechs
One of the latest trends to emerge as a result of more complex regulatory landscape is the rise of RegTech. RegTechs, which have carved out a niche in FinTech, help financial institutions to better understand and manage their risks, and to facilitate the delivery of regulatory requirements via agile regulatory technology. The FCA has already envisioned that RegTech could transform the way in which AML checks are performed by streamlining how due diligence checks are conducted.
Finding a way of harmonising new regulations and making them fit with existing models is going to be challenging, but RegTech could help to put all the pieces of the puzzle together.
Regulators provide support to prevent innovation being hampered
In an effort to prevent innovation from being stifled, regulators are providing support and guidance to financial institutions. The FCA has launched a sandbox that allows innovators to be able to answer regulatory uncertainties about their new products in a live test environment. In addition, the FCA has begun to develop 'FinTech bridges' between other countries to enable regulators to share information about financial services innovations in their respective markets, including emerging trends and regulatory issues.
Can increased regulation be a good thing?
While complex and challenging, these new KRIIs encourage innovation and competition in the market, but also highlight the benefits of collaboration between incumbents and FinTechs. Incumbents have a strong background in compliance, while FinTechs can deliver the technology needed to ensure that banks are able to keep pace in an evolving regulatory landscape. Working together, they are able to take a transformative approach to regulation that will ensure success.