As their name suggests, challenger banks are all about shaking up traditional banking models. At the heart of everything they do is user experience (UX). From improved customer service and innovative new products, to frictionless onboarding and simple yet effective apps and online banking interfaces, challenger banks have made established financial institutions sit up and take note, especially as they become increasingly popular among younger generations who have grown up in the internet age.
Mobile first, personalised, and always available
Mainstream adoption of mobile devices to manage finances has exploded in the last few years, and many challengers banked on this being the case early on. Moving money between accounts, sending money to friends and family, and exchanging money into different currencies can be done in seconds.
A decade ago, being able to open a bank account in minutes by taking a photo of proof of ID and sharing it via an app would have seemed pretty far fetched. Yet there are now a number of digital-only challenger banks able to do just that, making the need to visit a branch to open an account obsolete. Security has also improved while removing barriers to using banking apps; biometric authentication can verify a user login in seconds, eliminating the use of long passwords and difficult to remember pin codes.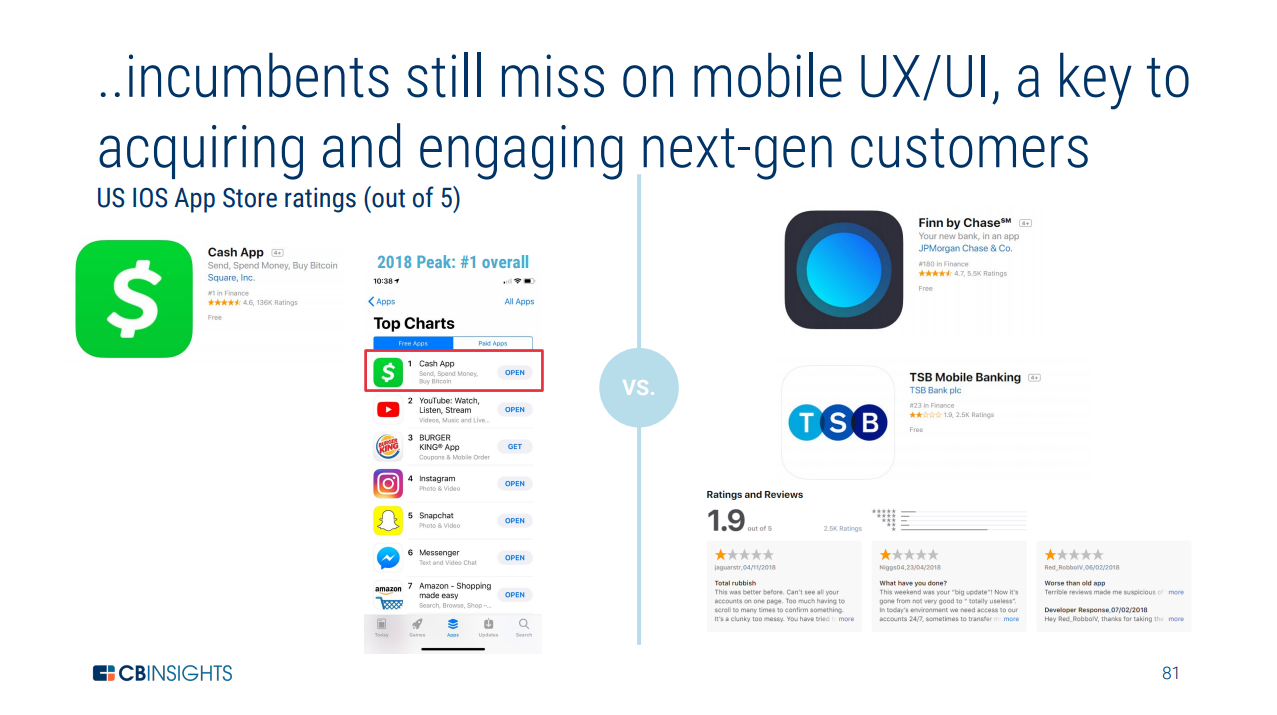 While many challengers are at an advantage, having built their strategy around delivering a digital-only service, that's not to say that all banks have terrible online and mobile banking experiences, in fact, far from it. Two of the biggest banks in the UK – Barclays and Natwest – have very highly rated apps due to the wide range of features on offer, and their easy to use interfaces.
Another reason people are opting to bank on challengers is the personalised service they can offer. Whether it's using a chatbot to find out whether there is enough cash for a takeaway before payday, setting saving goals, or being able to categorise bills and merchants to keep track of spending habits, consumers are embracing these new ways of managing money.
As more and more branches close, being able to get in touch with a bank at a time and place that is convenient to the customer is becoming more difficult. Challengers are capitalising on this by providing 24/7/365 access to banking services and customer support via multiple channels. The notable exception to the rule for high street banks is Metro Bank, who are opening more branches with extended opening hours.
Maintaining focus on the front end
Large high street banks have the budgets and resources available to invest heavily in UX. Challengers and regional banks may not have this luxury, but delivering their customers a great digital experience is key to their survival.
Smaller banks and other financial institutions should continue to focus their efforts on the end user. While many are opting to build and own a technology stack on the back end, there are specialist FinTechs that provide solutions that enhance or underpin core banking functions.
By embracing FinTechs capable of delivering this infrastructure, challenger banks would be able to offer their customers new banking products without having to invest heavily in the back end. This approach would allow them to quickly expand at significantly lower cost, particularly into B2B banking, with lending and FX solutions being deployed in weeks for SME and corporate clients. Taking this modular approach, picking and choosing the best partnerships with financial utilities to power their products, they can remain agile and continue to focus on what they do best – delivering exceptional UX.
Banking Circle is one such financial utility that provides the underlying infrastructure banks and financial institutions need to succeed in an increasingly competitive landscape. To find out more about the B2B banking solutions we can offer, get in touch with a member of the team.