Back in 2020, Banking Circle commissioned research into the attitudes of SMB business leaders across Europe, which revealed a significant gap between their needs and expectations, and the quality of advice and service they receive from their bank.
Two years on, the recently released Capgemini World Payments Report shows that in that time, their attitudes have not really changed.
Why are SMBs dissatisfied with their incumbent banks and other PSPs?
The Capgemini research revealed that of the global SMB leaders they surveyed, 61% had relationships with at least two traditional banks, and almost 25% worked with six to 10 service providers. Despite having relationships with several parties, for a range of financial products, Small and Medium Businesses stated that they felt they were being offered unfavourable terms, such as higher interest rates and fees.
For lower-value B2B payments, there are numerous challenges, including risks around forex trading volatility, liquidity, compliance, reconciliation, a lack of transparency, poor processing and settlement times, and high transfer costs.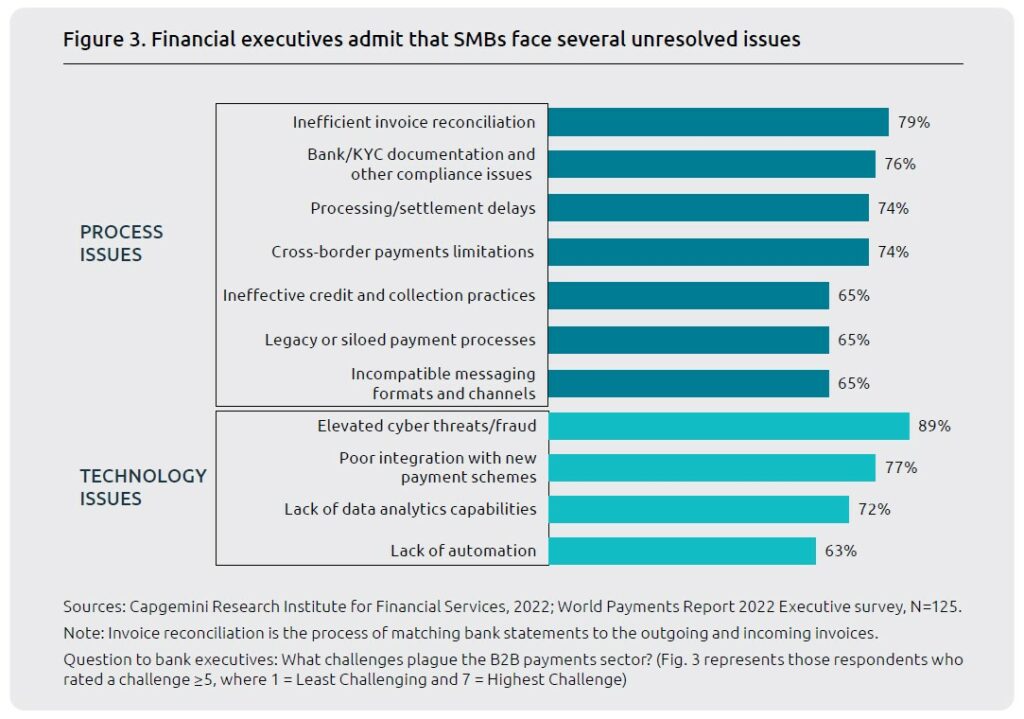 For these reasons, banks struggle to accommodate the SMB sector, which due to its diversity, means that each business it serves has different needs. There is no longer an opportunity for banks that continue to provide SMBs with a one-size-fits-all offering.
And yet, there is a huge opportunity for banks that can adapt.
The global B2B cross-border payment market will likely reach USD35 trillion in 2022. Yet it is highly fragmented with low transparency, resulting in risks for SMBs. The traditional process can involve at least six intermediaries – the payer and payee, their respective banks, and two correspondent banks – with high transaction costs and low process visibility.
Fortunately, new players, including Banking Circle, are streamlining the way in which the correspondent banking model works, providing global banking and payment solutions that both Banks and Payments businesses can utilise to deliver improved, value-added services to their SMB clients.
Legacy infrastructure issues continue to hold banks back
IT investment among banks has been very much focused on improving the front-end UX (user experience)/UI (user interface) improvements, with only 21% of budgets being dedicated to mid and back-office processes and payments infrastructure.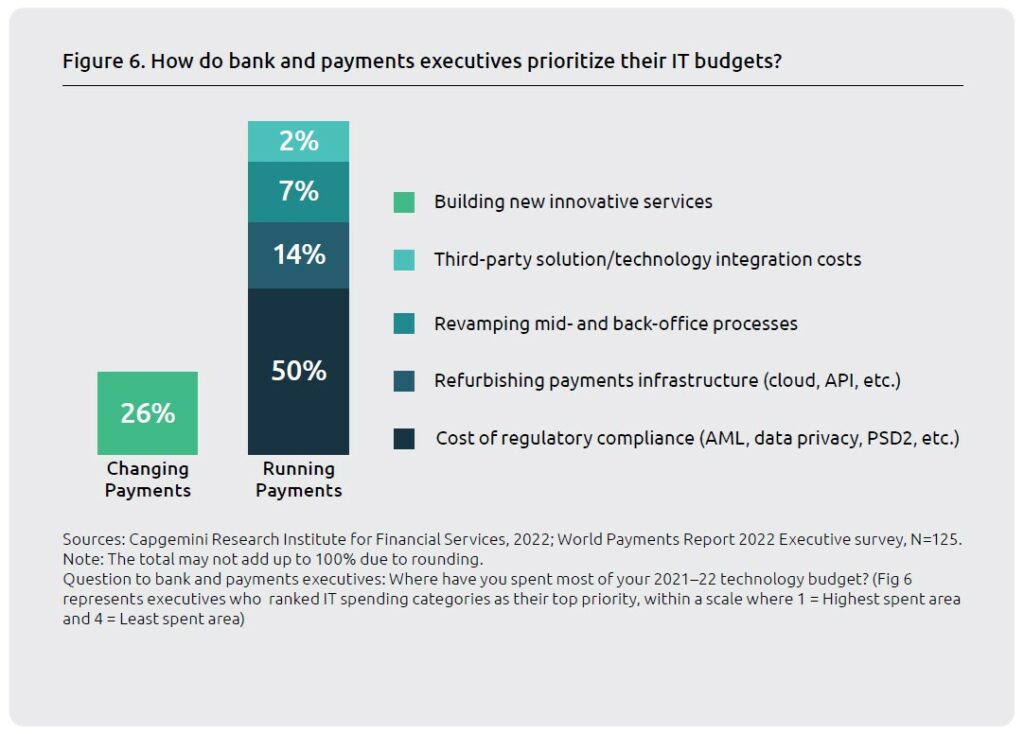 This strain on banks' IT budgets, particularly when it comes to making investments in infrastructure, can be alleviated by collaborating with more agile players that have created scalable and easily implemented solutions, built on top of legacy systems.
Composability enables payment firms to select and assemble building blocks in various combinations to satisfy customer requirements. While the payments hub consolidates the disparate payment engine, composability also allows payment firms to quickly build and launch new payment formats in the market. For instance, B2B BNPL [Buy Now, Pay Later] APIs that can embed into e-commerce platforms so buyer SMBs can get upfront payment for sales, while seller SMBs receive extended payment terms. The B2B BNPL offering can provide increased flexibility to SMBs to manage their working capital.
Despite this, the report states that just 4% of the payments executives surveyed said their organisation has (or is exploring) fluid architecture that enables the rapid configuration of payment products and services.
The rise of the B2B payment ecosystem
Payments are at the core of the vast majority of bank interactions.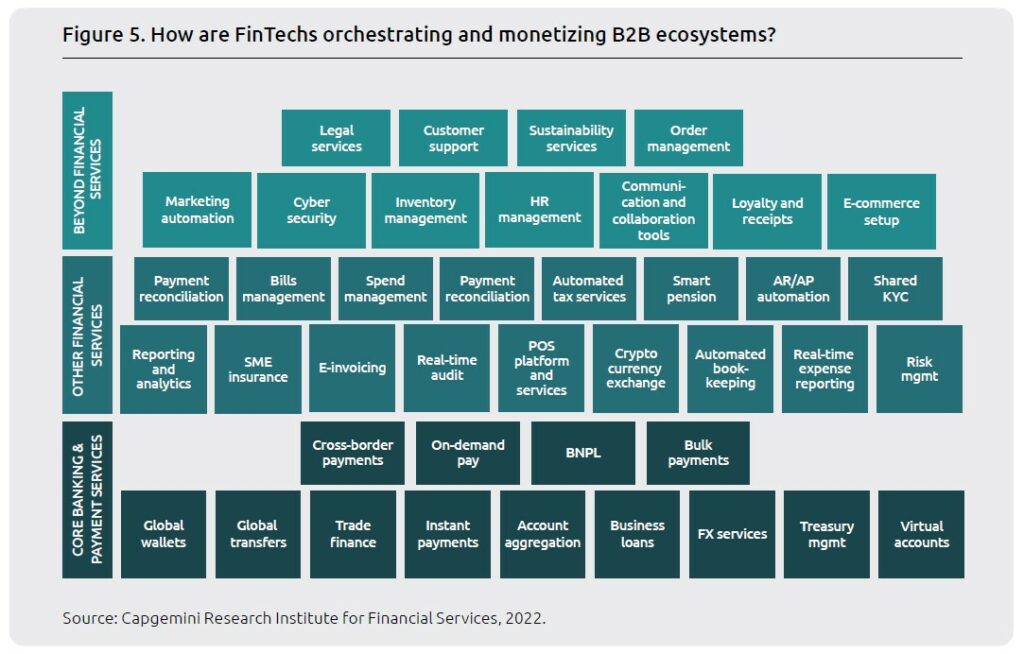 Building an ecosystem around this core proposition, and extending them to other financial services through partnerships with other financial institutions and non-bank providers can significantly improve SMB operational efficiency, while lowering their costs.
It's a win-win situation. For those participating in the ecosystem, by becoming a one-stop-shop for SMBs, they increase client stickiness and add much more value collectively, than an individual bank that only offers a basic business account ever could.
Preparing for future payment innovations
One of the biggest innovations happening within B2B financial services is crypto. Central banks have been exploring Distributed Ledger Technology (DLT) and Central Bank Digital Currencies (CBDCs) as new ways to process transactions. Of those surveyed by Capgemini, 90% of banking executive respondents said that CBDC can support new payment innovations.
And SMBs are interested too, with 83% of respondents stating they are interested in using DLT-based payments.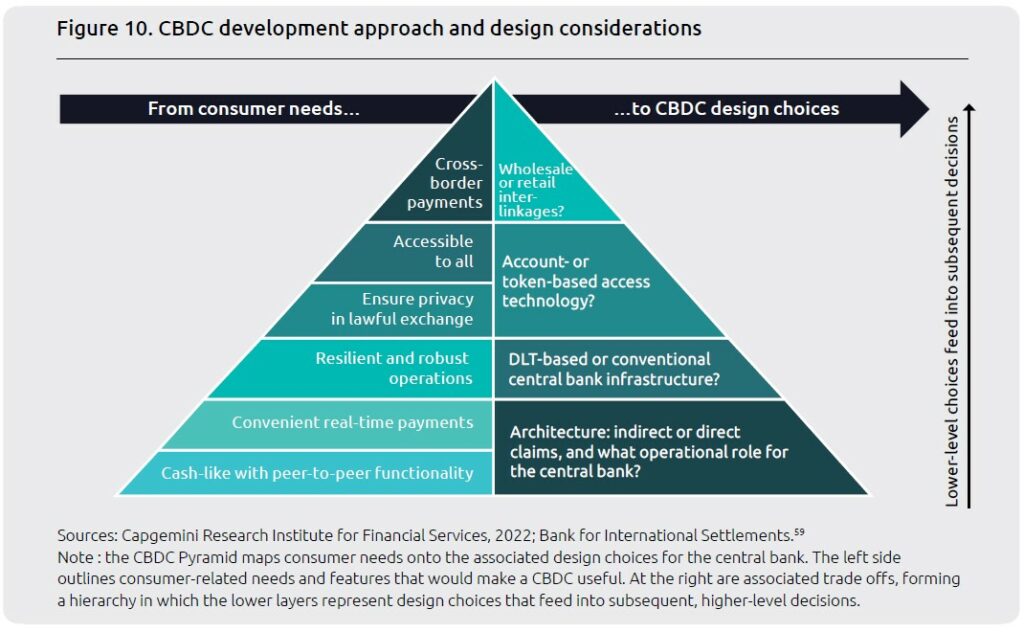 Earn SMB trust through innovation and engagement, or risk being left behind
Despite digitalisation and innovation being accelerated across the banking and payments industry, driven by the fallout of the COVID-19 crisis, SMBs want more. Nearly 9 in 10 SMBs stated that they are considering a move to more agile providers, according to the report findings.
One of the main reasons for this is that these providers are offering an ecosystem-based approach, bundling core payment services to give SMBs a unified value proposition.
Additionally, financial institutions that have freed themselves from legacy infrastructure through API-based, cloud-native architecture that meets the ISO 20022 standard are better placed to meet the needs of SMBs, who require more efficient payment rails.